Feb. 09, 2022
Positive energy is a kind of upward and good power, is a healthy and optimistic, positive and enterprising driving force and emotion, is the behavior of striving to move forward in social life, individuals, enterprises, and society are inseparable from positive energy. How to generate and spread positive energy? At a training meeting for a thousand people, he shared his experience with the audience!
On February 8 (the eighth day of the first lunar month), at the training site of 1,000 people at the Shangdang District Staff Club, Li Anping, chairman of Zhendong Group, played the main theme of 2022 company operation - "positive energy, innovative strategy, win the future", and brought the first lesson of the annual meeting "The Generation and Spread of Positive Energy", and more than 5,000 employees across the country learned through online live broadcast.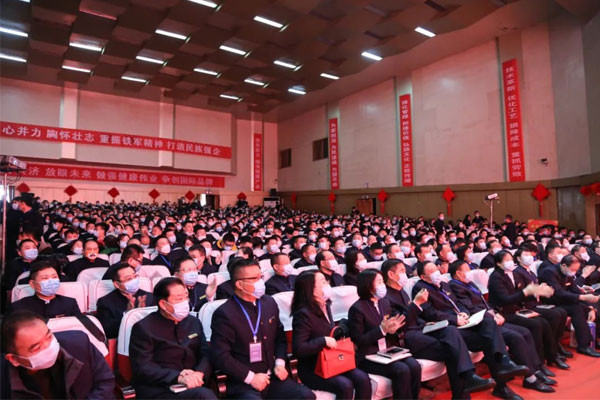 "Personal happiness is inseparable from positive energy; the development of enterprises is inseparable from positive energy; the prosperity of society is inseparable from positive energy!" In the course, Chairman Li Anping reviewed the history of positive energy development in the past 28 years, combined with his "fine, practical and fast" style and the spirit of "fighting, fighting, and breaking through" in the entrepreneurial period, and elaborated on "how does Zhendong produce positive energy?"
The power of role models
Positive energy arises from one's own positive thinking, from the infection and encouragement of role models. In the development history of Zhendong, there are many positive energy representatives: Wang Yulan, who is sincere and honest with each other, and wins the trust of customers; Wang Ruizhen, who is scrupulous and conscientious, has been striving for excellence for decades and strictly controlling quality; Dr. Zhang Hui, who has studied liposomal projects in the United States, has repeatedly overcome scientific research problems; Fan Libin of the Poverty Alleviation Office has taken the initiative to recognize orphans and show great love..... The deeds of more than 30 positive energy representatives have left a deep impression on everyone.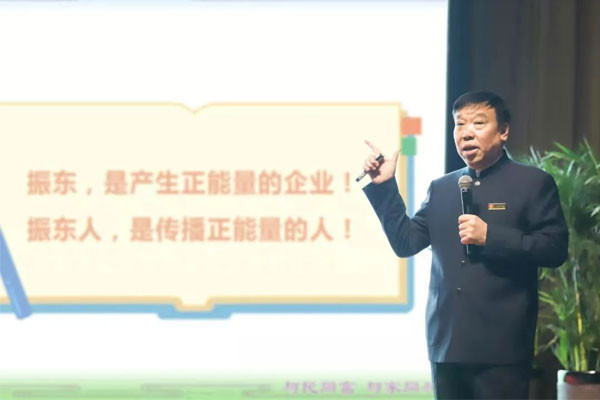 Chairman Li Anping said that more people have awakened and sublimated their hearts under the influence of Zhendong. Zhendong people work hard, work hard and use affection to rely on the Chinese herbal medicine industry to help Pingshun County get rid of poverty; Zhendong people vow to carry out charity to the end, adhere to the 23-year "Poverty Alleviation day", 21 years "Winter Help Day", 16 years "Benevolent Angel Fund" to help the vulnerable groups in society; Zhendong people have never been absent when the country is in difficulty every time there is a disaster in the south, Wenchuan earthquake, Yushu earthquake, Lushan earthquake, COVID-19 epidemic, Henan-Shanxi flood disaster, etc. Over the past 20 years, we has donated a total of 723 million yuan to the society.
Positive energy can only affect society through wide dissemination. Chairman Li Anping gave examples from two ways of communication, internal and external. Internally, we should be willing to share and affirm ourselves, learn from positive energy examples; externally, we should unify the image of employees, spread brands, and publicize corporate values through various networking activities.
At the end of the training, Chairman Li Anping called on everyone: "Zhendong is an enterprise that produces positive energy, and Zhendong people are people who spread positive energy." We must make up our minds to straighten ourselves, carry forward righteousness, unite as one, do a good job in our enterprises, improve our quality, and fight for ourselves and our families, society and the country! Dedication! Advance!"
Say positive words
Do positive things
With the most sincere heart
Pass on the most sincere feelings